Portfolio websites & content management for photographers and artists
IO200 is a powerful self-hosted CMS for creating individual portfolio websites.
Start for free →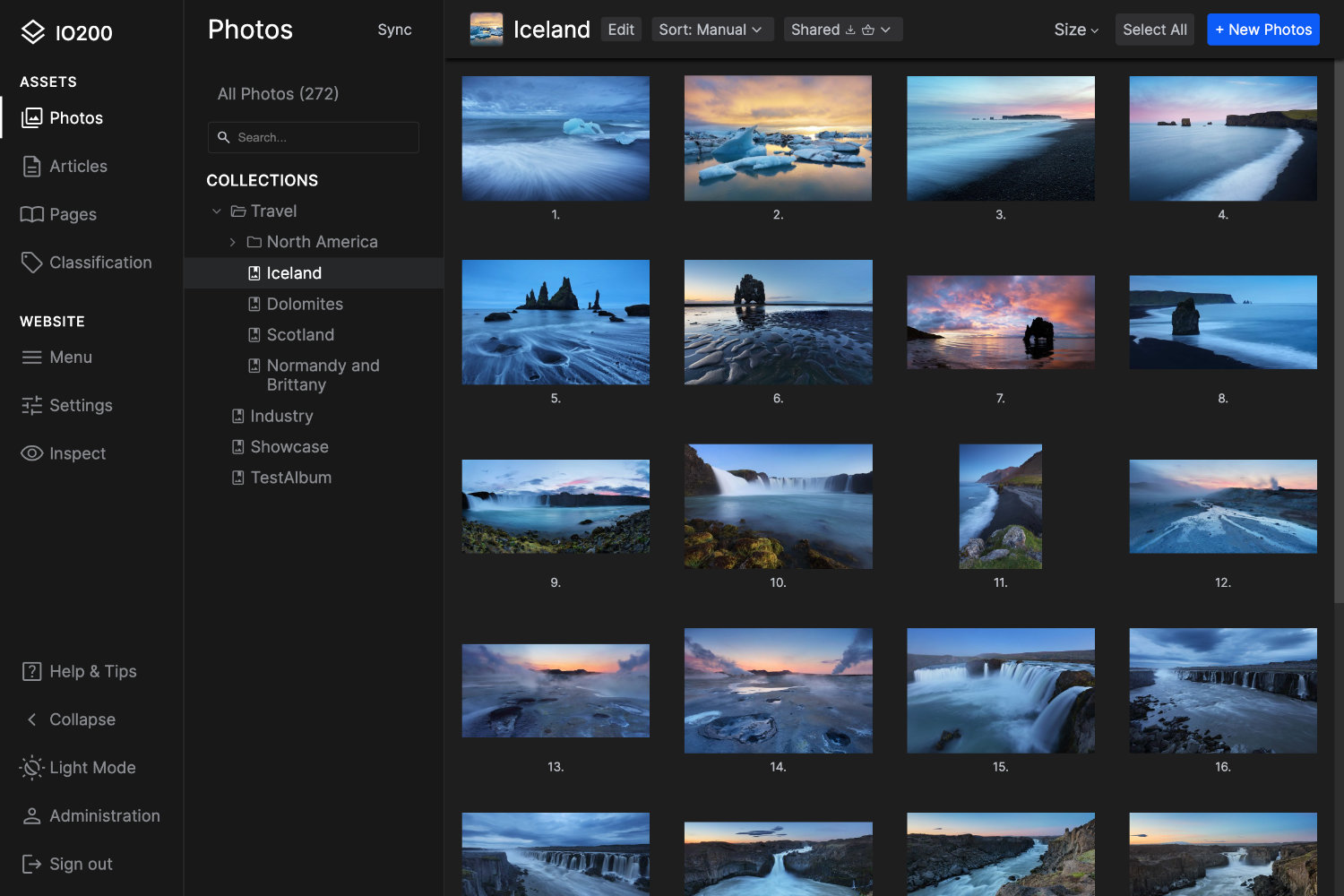 Portfolio
Manage and showcase your photos
Nested collections, albums, tags, and categories let you manage your photos like a real desktop application.
Blog
Write and publish articles
Articles with photo galleries and comments offer everything to capture your journey in a blog and connect with your audience.
Site
Build your portfolio website
Create pages, choose templates for displaying content like photo galleries and albums, and set up your website's navigation menu.
Themes and Templates
Customize the look and feel of your portfolio website
Select a ready-to-use theme for the overall look of your website.
» Explore website themes
Choose between 12 different customizable templates for displaying content like photos, albums, or collections.
» Learn more about templates
Hosting
Keep control of your website and data
Website and CMS including the database and all photos are self-hosted on a web hosting provider of your choice.
Requirements: domain name, PHP 7.4 or higher, and MySQL or MariaDB database
License
Free of charge for up to 1000 photos, 100 articles
119.95€ (full feature license)

Start for free →
Testimonials
Thank you for providing this great software. Websites with IO200 look fantastic.
I immediately found my way around the application and was able to use it intuitively.
IO200 is super easy to set up and offers amazing themes.
Finally, there is an easy to use CMS that is tailored specifically for photographers.
Thank you for helping me to migrate my Koken website. You are a champ.
I love the stylish and clean website themes.
I have never worked with such an easy to use yet feature rich CMS.
IO200 is the perfect CMS for my photo portfolio website. FTP folder synchronization is awesome.
Much better than any mainstream software like WordPress. I love the simplicity of the application.
IO200 is a modern, easy-to-use, powerful Content Management System (CMS) for photographers, artists, creatives, designers and models to create individual portfolio websites and photo galleries. It is highly customizable and offers an extensive list of features, beautiful designs, and amazing themes. Our professionally designed portfolio websites are modern, mobile-friendly, stylish, and SEO optimized.
The software can be used completely free of charge. Certain limitations of the free CMS and online photo gallery regarding the total number of photos/articles can be unlocked with an optional paid license.
Start sharing your photography and artwork with your audience today.